Global economy is getting into dire straits with the aggressive spread of the novel coronavirus, a human tragedy, affecting hundreds of thousands of people. An IMF report states that the global impact of coronavirus shock is severe even compared to the Great Financial Crisis in 2007–08. No doubt, the impact of the coronavirus is having a profound and serious impact on the global economy and has sent policymakers looking for ways to respond.
As the COVID-19 rattles industries, it's more important than ever for Business and IT leaders to ensure employees have the effective tools they require to work remotely and securely; to be specific, secure ICT infrastructure. Business continuity plans typically allow a subset of employees to work from home, with work also getting distributed between in-house and remote resources. But the spread of Covid-19 to multiple cities globally has made it necessary to have broader work-from-home authorizations. This is causing a major strain on the communication, internet and security infrastructure in many developing countries.
Although India too has been affected by the spread of the pandemic, the impact has been much controlled, with the timely and thought over efforts by the Indian government. Being one of the most robust and fastest growing economies, India offers high quality IT and IT-enabled Services(ITeS) at low cost, using state-of-the-art technology. ICT convergence having led to lowering of tariffs, plentiful availability of bandwidth (5G) at increasingly lower cost, growth in technology with implementation of fiber optics and high end wireless technology; and robust security infrastructure, India's ICT infrastructure is counted among the best worldwide. With ITeS companies generating about 3/4th of their total revenue from offshore development, India has a proven track record as a world-class software development center.
In the wake of COVID-19, many software projects are in a turmoil there by causing delay and escalating costs of lost opportunities. Global companies have benefited from outsourcing their software projects or development support to Indian ITeS companies as a part of their business continuity strategy. Here's why...
India, a stable democracy based on the parliamentary system of governance
A thriving software industry, backed by priority government initiatives
Market driven intellectual economy
Huge forex reserve bringing about economic stability
Conducive economic policies by the government
Wide availability of skilled IT resources
Wide availability of English speaking workforce
Government initiative in upgrading ICT infrastructure
INR-USD parity
And many more…..
MindWorx Software Services Pvt. Ltd. is one of the front runners in the offshore development services in India. Among its bouquet of products and services, WoW Model™, an Innovative, Integrated and Extended collaboration model, has been a game changer for many companies worldwide who have benefited from the service.
The model provides not just operational cost benefit but also the necessary and much needed operational assistance in the event of any eventualities that may affect the smooth continuity of client's business.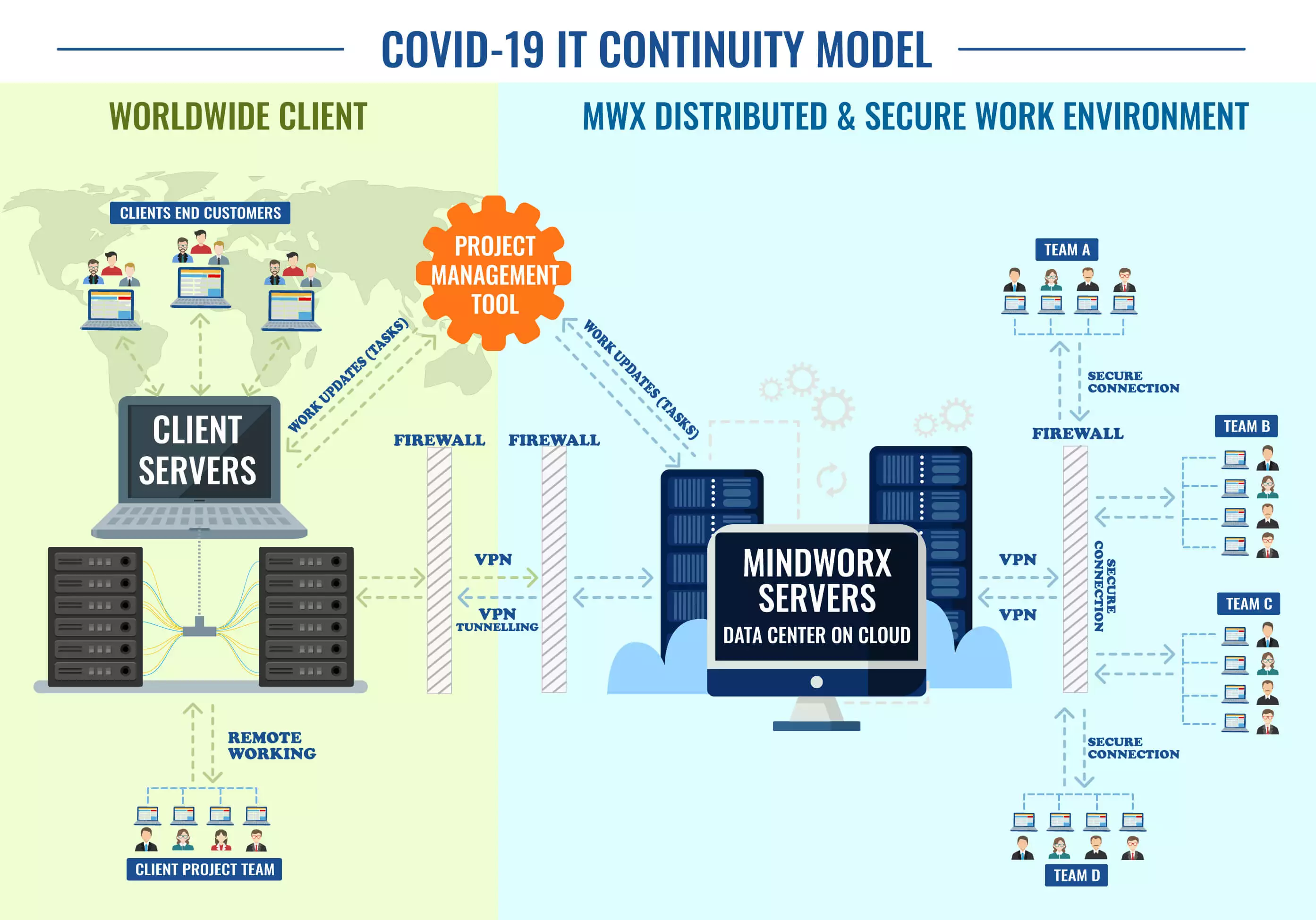 With secure VPN setup, 50MBPS (1:1 burstable) connectivity infrastructure, in addition to 5G broadband connectivity with our remote resources (WFM due to nationwide lock down amid COVID-19) MindWorx team is working seamlessly and providing flawless development services to our esteemed clients.
The model offers quite a few unprecedented benefits than the ones offered by conventional software development outsourcing services. The model is also beneficial to start-up or growing businesses in many countries, who have their investments at stake while facing the brunt of the pandemic.
WoW Model™ has been designed on the premises of trusted partnership and making IT simple.
To know more visit www.mindworxsoftware.com.